Yes, you did you read the title correctly. Cake batter rice rice krispy treats are pure deliciousness sent from heaven. Where else did I find the recipe for this, but good ol'
Pinterest
.
I made two batches for Brooklyn's 6th birthday. She took them to her 1st grade class to share with everyone & from what I hear they were a big hit!
Here's the recipe & photo (thanks to
Gimme Some Oven!
) for all of you who want to test them out. I assure you they won't last long...
Stay tuned for red velvet krispy treats... coming soon!
Check out
Gimme Some Oven's
blog for more fantastic recipes.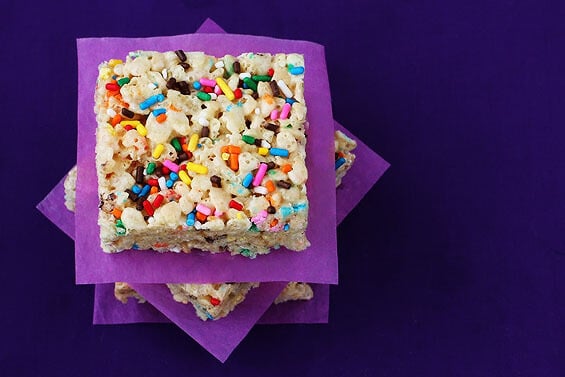 ---
Ingredients:
3 Tbsp. butter
1 (10 oz.) bag of mini-marshmallows
1/4 cup yellow cake mix
6 cups crispy rice cereal
1 (1.75 oz.) container of sprinkles
Method:
Melt butter in a large saucepan over low heat and add marshmallows. Stir until they begin to melt, adding in cake mix one spoonful at a time so its combined. Stir in cereal so it is completely coated with marshmallow mixture. Sprinkle in half of the sprinkles and mix. Press into a baking dish (any size will do) and top with remaining sprinkles. Let sit for about 30 minutes before cutting. I find spraying a knife with nonstick spray helps to cut them.
Ali's Tip:
I actually increased the cake batter to 1/3 cup for my recipe to give it a little extra cake batter kick (the 1/4 cup seemed just a little too subtle to me), but add as much in as you like! (And you better believe I used the 1/4 cup option for full cake batter taste!)